Christmas is the time to share love and joy, a time to recollect beautiful memories with your loved ones. Unfortunately, in recent time, overindulgence and overspending became a common habit. This year, with the COP26 climate change talks still echoing, it's important to give some thought to how we can shop more sustainably and eco-friendly.
Pole dancer Julianna Yau and upcycling artist Michal Hochberg have teamed up to raise awareness on the impact of waste, and to share tips for reducing excess over Christmas. In the spirit of the adage, "One person's trash is another person's treasure," the co-project features Julianna's aerial dance with a work by Michal: a Christmas tree constructed entirely from recycled bottles kindly provided by Baguio.
Michal uses her art to encourage creative upcycling of the things we own, rather than throwing them away simply because they're no longer good-as-new. All her work is created by repurposing furniture, glass bottles, and other discarded materials. With their project, the duo wishes to inspire a new perspective on Christmas and show that you can enjoy the season with a greater awareness of the environment.
---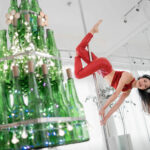 ---
Discussing the inspiration behind the project, Julianna says, "The over-exploitation of land has endangered many species of plants and animals, so we hope through this project we can help raise awareness to restore our Earth's forests, protect biodiversity, and share the joys of a conscious and waste-reduced Christmas."
Christmas is an extravagant and costly project for many households. A celebration that was supposed to be about non-material values and spirituality has become rooted in materialism.
For example, the Christmas tree is one of the most festive traditions of this holiday. When you set up a Christmas tree, you bring a little bit of nature into your home. Your spot of green creates warm holiday cheers at a time when it is cold and dark outside. But once you've unwrapped the presents, scarfed down the leftovers, and safely stowed away the ornaments, your glorious display piece instantly transforms into waste. Most of the trees that are bought during this period are artificial trees, which are non-biodegradable and often end up in a landfill or incinerated, having a terrible impact on the environment via emissions.
There are easy things we can all do to reduce our impact:
1. Buy local. Christmas gifts are really gestures of thoughtfulness. You can give more while spending less. Not all gifts have to be store-bought.
2. Shop local. Many gifts in today's marketplace come from halfway around the world, and the impact of transportation contributes significantly to greenhouse emissions and global warming. Local craft fairs and artisan shops are a good source for gifts that come without the added costs of transportation.
3. Give 'battery-free' gifts. According to the EPA, about 40% of all battery sales occur during the holiday season. Discarded batteries are an environmental hazard. Even rechargeable batteries find their way into the waste stream eventually.
More generally, we can all try to be more mindful of the small choices we make. Reuse or recycle gift packaging, save any special gift wrap, and send e-cards or make homemade ones. Just remember, we don't need a handful of people doing zero-waste perfectly. We need millions of people doing it imperfectly.
---
Credits